| | |
| --- | --- |
| User's Guide | |
Maintenance / Replacing Consumable Products
Photoconductor Unit
Handling precautions
Replacing the photoconductor unit

Handling precautions
Always observe the following handling precautions when replacing the consumable products:
The photoconductor unit weighs 2.8kg (6.16 lb). Be sure to hold it firmly by the handle when carrying it.
When replacing the photoconductor unit, avoid exposing it to light any longer than necessary.
Be careful not to scratch the surface of the drum and belt. Also, avoid touching the drum, since oil from your skin may permanently damage its surface and affect print quality.
To get the best print quality, do not store the photoconductor unit in an area subject to direct sunlight, dust, salty air, or corrosive gases (such as ammonia). Avoid locations subject to extreme or rapid changes in temperature or humidity.
Do not tilt the photoconductor unit.
| | |
| --- | --- |
| | Warning: |
| | |
| --- | --- |
| | Do not touch the lever under the scanner unit when you open or close the unit. Touching it will cause the document cover of the scanner unit to fall down, which may damage the product and cause injury. |
| | |
| --- | --- |
| | Do not dispose of the used consumable products in fire, as they may explode and cause injury. Dispose of them according to local regulations. |
| | |
| --- | --- |
| | Keep consumable products out of the reach of children. |

[Top]
Replacing the photoconductor unit
Follow the steps below to replace the photoconductor unit.
| | |
| --- | --- |
| | Make sure the CX11N is turned on. |
| | | |
| --- | --- | --- |
| | | Note: |
| | | |
| --- | --- | --- |
| | | Before raising the scanner unit, make sure that the document cover is closed firmly. |
| | |
| --- | --- |
| | Raise the scanner unit. |
| | | |
| --- | --- | --- |
| | | Caution: |
| | | |
| --- | --- | --- |
| | | Do not touch the lever under the scanner unit when you open or close the unit. Touching it will cause the document cover of the scanner unit to fall down, which may damage the product and cause injury. |
| | |
| --- | --- |
| | Contain the expansion tray in cover B. |
| | |
| --- | --- |
| | Open cover B. |
| | | |
| --- | --- | --- |
| | | Warning: |
| | | |
| --- | --- | --- |
| | | Be careful not to touch the fuser, which is marked CAUTION HIGH TEMPERATURE, or the surrounding areas. If the product has been in use, the fuser and the surrounding areas may be very hot. |
| | |
| --- | --- |
| | Raise the orange lever inside cover B. |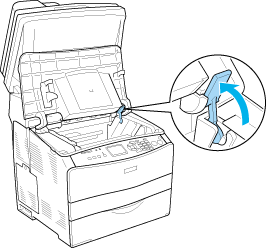 | | |
| --- | --- |
| | Remove the photoconductor unit. |
| | |
| --- | --- |
| | Take the new photoconductor unit out of its package and remove the protective sheet. |
| | | |
| --- | --- | --- |
| | | Caution: |
| | | |
| --- | --- | --- |
| | | Do not touch the belt on the top of the unit or the blue photoconductor area. Otherwise, the print quality may decrease. |
| | | |
| --- | --- | --- |
| | | When replacing the photoconductor unit, avoid exposing it to light any longer than necessary. |
| | |
| --- | --- |
| | Hold the photoconductor unit by its handle, and insert the unit until it clicks shut while aligning the arrow marks on the product. |
| | | |
| --- | --- | --- |
| | | Caution: |
| | | |
| --- | --- | --- |
| | | Do not touch the parts inside the product. |
| | |
| --- | --- |
| | Push the orange lever down, and then close cover B. |
| | |
| --- | --- |
| | Expand the extension tray if necessary. |
| | |
| --- | --- |
| | Lower the scanner unit to the original position |

[Top]
Version 1.00E, Copyright © 2003, SEIKO EPSON CORPORATION