| | |
| --- | --- |
| Online Reference Guide | |
Scanning Basics
Applying a Preset Tone Curve
You can finely adjust the contrast within an image by applying one of the preset tone curves. This allows more control over the image when used in conjunction with the Auto Exposure settings in the Manual mode window. The Tone Curve Name list in the Tone Correction dialog box provides the six most common tone correction curves, described below.
Linear
A linear tone curve has no tone correction. Use this setting if you are satisfied with the tone of the preview image.
Lighten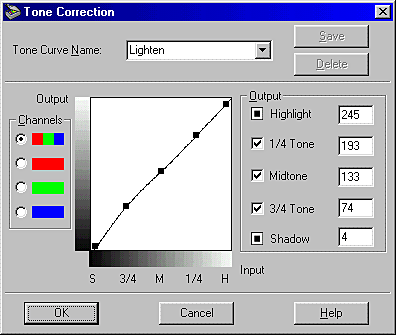 Adjusts darker images (like underexposed film) to make them slightly brighter.
Darken
Adjusts brighter images (like overexposed film) to make them slightly darker.
Flat Contrast
Flattens high contrast images to make them look more natural.
High Contrast
Increases the contrast of dull images.
Open Shadow
Improves details in the dark areas of images.
| | |
| --- | --- |
| | Note: |

[Top]
Version 1.00E, Copyright © 2001, SEIKO EPSON CORPORATION